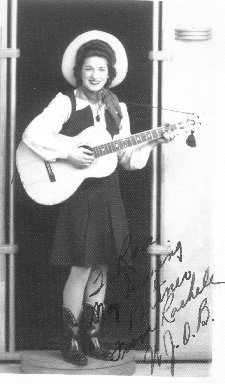 1944 ---The Rodeo Girls may well be called the "Mighty Mites" of radio, since the two combined tip the scales at a mere 194 lbs. Divide by two, and you have Rose and Rachele, The Rodeo Girls, at 97 lbs. each and standing a mere five feet, two inches tall.

   For all their minuteness, Rose and Rachele manage to get a weight of feeling into the songs they send across the footlights and over the airwaves to their audiences. Rose wields the pick on the guitar that accompanies the girls as they blend their voices in the Western songs that folks have learned to love so well.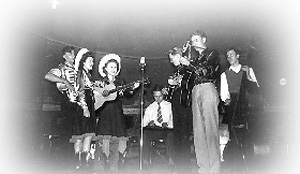 The Rodeo Girls have been singing together for some two years, and a list of their personal appearances includes featured spots at the Rodeo and Thrill Shows in Gary, Indiana, Aurora, Illinois, and Langley Stadium and the International Amphitheater in Chicago. In addition, they have well over 150 broadcasts over radio station WJOB in Hammond, Indiana to their credit and are featured every Saturday night on the Hoosier Jubilee Barn Dance in the Masonic Theater in Hammond.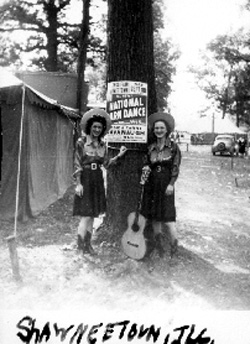 The Hoosier Jubilee artists performed for Shriner's Children's Hospital in Chicago

The Rodeo Girls went on tour in 1943 with the WLS National Barn Dance to Shawneetown, Carmi, Fairmont and other Illinois cites along with Red Foley and Patsy Montana.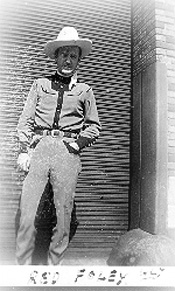 Rose recalls learning that she and Rachele almost had a chance to meet and audition for Roy Acuff. He had heard about them and waited around backstage for them to arrive since they were on their way to a theatre for a USO show. Unfortunately, the girls took the streetcar and arrived late after he left.