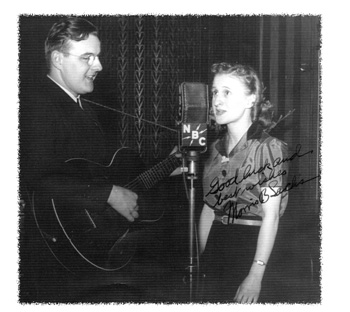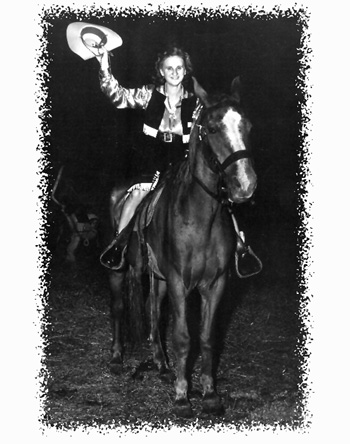 Rouza Pozgaj was born on August 1, 1921 in Chicago to immigrant parents. A younger brother Stevie and baby sister Caroline died from pneumonia as many children did in the early part of the century. An older sister Frances and younger brother Joe survived. The family lived on Komensky in the Croatian neighborhood on Chicago's South Side near Midway Airport. She says she was always singing and when her father bought her an acoustic guitar with Mother of Pearl, she took lessons from a local musician.

After graduating from Lindblom High School, she worked at Motive Equipment making Chevy switches. That's where she met Rachele, who lived on the North Side. She also liked to sing. The two hooked up and became the Rodeo Girls and quickly were booked on the Hoosier Jubilee in 1942. A road show with Patsy Montana followed, and the Rodeo Girls soon became favorites.

A few years later, Rachele married Sam Davis of the Smoky Mountain Brothers and that ended the Rodeo Girls' career. Rose had met a comedian /magician, my father
Art Weygandt
and married in 1946.
While working as an operating engineer by day, my father continued to pursue his interest in magic. He, too, performed less, but remained a part of the magic community until his death in 2003. My mother performed occasionally for local shows, but by then her singing and yodeling was reserved for me and my sister.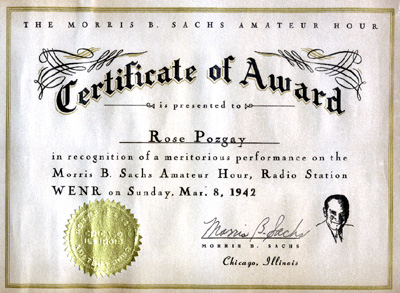 21-year old Rose Pozgay sang for the Morris B. Sachs Amateur Hour. She didn't win, but it was the start of her career. First prize was $75, second prize was $40 and third prize was $20. The top three winners also got a wrist watch.

Mom and girlfriend Carrie, the original Rodeo Girls in 1939. Carrie married Eddie Tandaric of the Windy City Ramblers. Above, that's mom with the Texas Ramblers, June, 1942.

Rose in the backyard of her home at 6110 S. Komensky in Chicago with her new guitar.